Lots of great books this week! Read the book reviews below, and learn more about my favorite reads:
Happy reading!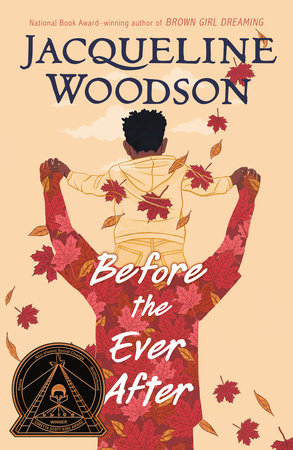 Before the Ever After by Jacqueline Woodson (novel in verse)
Gr. 4-7. ZJ's football star dad isn't his hero–he's just ZJ's beloved dad. Lately, ZJ's dad struggles to remember things and sometimes gets really angry. ZJ's mom explains that the memory loss has to do with all the head injuries and hits ZJ's dad took during his professional football carer. The doctors can't seem to help, and ZJ is scared of losing his dad forever.
Wow. This is an incredible book, told in verse, where, with such raw emotion. ZJ shows that the "ever after" isn't always happy and life isn't always okay. I hope this one receives lots of recognition at the youth media awards.
Dear Sweet Pea by Julie Murphy
Gr. 4-5. Sweet Pea is trying to figure out what her new life looks like. She still lives in her small town in Texas, but her parents don't live together anymore. After the divorce, her dad moved in right next door, meaning Sweet Pea has two nearly identical houses, with nearly identical bedrooms. That isn't all Sweet Pea has to think about–there is also her ex-best-friend who has moved on to prettier and skinnier new friends, a possible first crush, and the reason for that divorce, that her dad realized he's gay.
When Sweet Pea's eccentric neighbor, Miss Flora Mae, has to go out of town, she leaves Sweet Pea with a job: collect the letters Flora Mae receives from the newspaper and send them along to Flora Mae's temporary address. Flora Mae is the town's one and only advice columnist, and she wants to keep her trip a secret. Sweet Pea is excited by this new project, but when she finds a letter to Flora Mae from Sweet Pea's ex-best-friend, Sweet Pea can't help but reply to the letter herself.
Sweet Pea is an amazing kid, and an excellent, honest protagonist. I felt and understood every one of her decisions, even when I knew they would end badly. (I would have probably made the same decision if I had been caught in Sweet Pea's sleepover dilemma.) This book is particularly wonderful because of its fat girl representation. Sweet Pea is fat, plain and simple, but this isn't an issues book. Fat girl issues are mentioned, such as trying to find cute clothes in larger sizes and a fear that her old friend, Kiera, has moved on to skinnier friends. But the book isn't about these things. There is a sense of self-acceptance in the book, but not about her weight, because Sweet Pea accepts and loves herself before this book even begins. Refreshing and sweet.
Kodi by Jared Cullum (graphic novel)
Gr. 2-3. During a summer stay with her grandma, Katya struggles to make friends until she rescues a hurt Kodiak bear. Affectionately named Kodi, the bear and Katya quickly become inseparable. When Katya has to return home early, both Katya and Kodi are heartbroken. Kodi is determined to be reunited with his friend, stowing away on a cruise ship and traversing the streets of Seattle until he finds Katya once again.
A sweet and quiet read, this graphic novel focuses on friendship and perseverance. Great for younger readers and fans of books about kids and their dogs.
Snow Place Like Home (Diary of an Ice Princess) by Christina Soontornvat (first chapter book)
Gr. 2-3. Princess Lina loves her magical life living in castle in the clouds, but she also dreams of doing regular things at a Groundling (human) school with her best friend Claudia. Lina convinces her parents to let her try out human school, but Lina still doesn't have control of the wind powers she inherited from her mom. Whenever she feels strong emotions, Lina tends to make ice and snow appear in the world around her…and that ice and snow have followed her to her new school.
I read this series entirely out of order, though I am very happy to finally make it to the first book. This series is simply fun–with a great combination of humor, everyday school adventures, magic powers, and a lovely message of self-acceptance. Plus, this series stars a biracial main character, is written by a diverse author, AND is a fantasy series–a combination very hard to come by in first chapter books. Recommending to anyone and everyone.
Heroes Wear Masks: Elmo's Super Adventure by Ernie Kwiat (picture book)
PreS-K. Elmo is about to start school, and his mom helps him prepare with tips about staying calm, handwashing, and mask wearing. More details and suggestions in the back for caregivers.
This is exactly what you would expect from Sesame Street, and a book that I'm sure is needed right now. Elmo sets a great example for kids everywhere, wearing his mask, keeping six feet from his friends, and still managing to have a great day at school.
Twinkle, Twinkle, Diaper You! by Ellen Mayer and Ying-Hwa Hu (board book)
Baby. Mama changes baby's diaper in this simple board book. While the action is straightforward, the book excels in modeling ways a caregiver can turn a small exchange, like changing a diaper, into a literacy-development experience by singing a modified version of Twinkle Twinkle Little Star, practicing animal sounds, identifying body parts, and more. Bonus points for featuring a diverse family.