Lots of great books this week! Read the book reviews below, and learn more about my favorite reads:
Animal Showdown: Round Three by Stephanie Warren Drimmer (nonfiction)
Gr. 3-4. Which animal is most acrobatic? Loudest? Most venomous? Lives the longest? Find out in the newest round of animal matchups.
I like that this series isn't quite as clear cut as the Who Would Win books. While some of these questions have just one answer–like the loudest animal–the book makes the reader look at the stats and facts to figure that out (or, in the cases of less clear cut matchups, the answer is up to the reader). A great design paired with beautiful photographs and, of course, fascinating information, makes this series a win.
Goldie Vance: Larceny in La La Land by Hope Larson (graphic novel)
Gr. 4-8. Goldie Vance is back and taking Los Angeles by storm! While her best friends have glamorous lives as movie stars or are off working at fancy internships, Goldie has to figure out her own summer plans. When she stumbles across a grown-up female detective, Goldie knows she is meant to spend the summer solving real mysteries! After a bit of convincing, Goldie manages to land her dream assistant job where she is quickly caught up in a pair of intertwining mysteries involving both sentimental and very lucrative thefts.
Goldie is back! Move aside Nancy Drew–Goldie Vance is the queen of teen detectives. I love the sweet alternate reality that Goldie lives in (that essentially looks a bit like a Hollywood version of the 1960s without racism, the Vietnam War, and all of those real-world issues). Goldie and her friends exude the diversity that is much needed in modern comics but probably wouldn't have worked out well in real life at the time–Goldie is biracial, gay, curvy, and amazing (she also drag races, though that isn't featured in this book). Her friends are equally unique and awesome. Plus these comics are just fun–a combination of Sherlock Holmes meets Nancy Drew mystery, a few high stakes action scenes, fun side characters to flesh out the plot, and a great color palate that brings the setting to life. More please!
Move, Play, Learn: Interactive Storytimes with Music, Movement, and More by Alyssa Jewell (professional development)
Adult. Make your storytimes active through movement, music, and play! Think about how to make all parts of your storytime, not just some elements, an active experience, engaging little ones and caregivers throughout.
I wish I had read this book pre-COVID, but I am still glad to have found it now. Lots of great messages and ideas here (and a great list of children's musicians!). The theory and research in this book help me put into words what I've been trying to do with my storytimes before and after COVID–create an active, engaging experience. The less passive listening, the better.
While I don't agree with everything–I'm really not a theme person, and those are emphasized heavily in this text–the below paragraph really stuck with me, so much that I wanted to include it here to refer back to. I had a core set of storytime materials that I used pre-COVID, and I didn't put that much effort into revitalizing those materials. While I still use a bit more repetition than is highlighted in this book, I've been taking a much more thorough effort into planning and carefully selecting materials for my virtual storytimes–finding quality materials that I enjoy that highlight new voices, cover an early literacy skill, and fit the appropriate developmental level. I've wondered a lot about the time commitment involved with this and how this will fit into my job when I am back on desk with the public many hours a week, and I've been coming to the conclusion that storytime content needs to remain a priority. Author Jewell sums this up nicely in her text:
"For me, selecting the best materials for storytime is at the core of what it means to be a good children's librarian. My job is to showcase the best of what the library's collection has to offer. This means not only keeping up to date with the newest books and music, but also performing rigorous searches of the collection for each storytime theme, as there are sometimes hidden gems published years ago hiding in the stacks and begging to be brought to life. This is not always easy to do if you, like most librarians and teachers, are strapped for time. Everyone falls into bad habits at some point, such as rushing through material selection, gravitating toward comfortable materials that you or others have used time and time again, or choosing materials that you think are cute but are really not developmentally appropriate for your storytime. If you find yourself falling into any of these behaviors, take a step back and remember: the building blocks of storytime are the materials you select. If you are not putting energy into that process, then your foundation will be shaky." – page 51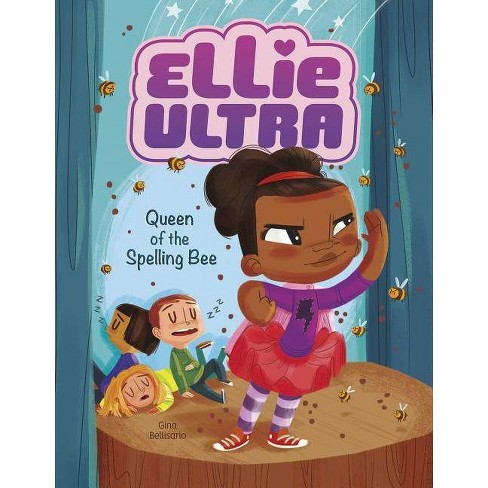 Queen of the Spelling Bee (Ellie Ultra) by Gina Bellisario (first chapter)
Gr. 2-3. Life isn't always filled with daring rescues for young superhero Ellie Ultra. She has to go to school, and sometimes those school days are filled with spelling bee practice! Ellie is sure that her super talents will make her a spelling bee champion, but when Ellie decides she doesn't need to practice, things don't work out as planned. But is there more to this new substitute librarian than meets the eye? Something seems to be off about the plans for the upcoming school-wide spelling bee…will Ellie need to save the day?
Ellie is a cute, spunky young superhero. I prefer Mia Mayhem's everyday adventures to this series, but, reading level wise, this would be a good step up from the Mia Mayhem books. I'm not sure if these books have to be read in order (no series number on the spine), but I definitely felt a bit confused by many of the references to what felt like previous books. This felt a little disjointed at times with a heavy focus on the fast-paced action, but I see the kid appeal, and I appreciate any diverse young superhero.
Rick by Alex Gino
Gr. 4-5. Rick has always gone along with his best friend, Jeff. Even when his best friend is mean–best friends stick together, right? Now, Rick is in middle school. He learns that maybe things don't all have to be one way, especially when a new friend leads him to a meeting of the school's rainbow spectrum club. The kids in this club seem to be so sure of who they are (or they are comfortable in being not so sure). Rick longs to be just as understood–but can he figure out who he is while still keeping his life as it has always been?
This was fun and so sweet! I loved the call backs to George–even though its been a while since I read that title, hearing Melissa introduce the talent show with a few loud "salutations!" was lovely. Rick was a particularly great perspective to explore. While George was a bit stronger of a book for me, I like that Rick was–and still is–questioning who he is. That questioning is normal and such a part of growing up that isn't focused on quite as often as the kids who "know" something about themselves. Rick's relationship with his grandfather was particularly strong and nuanced. Looking forward to more books!
School for Extraterrestrial Girls #1: Girl on Fire by Jeremy Whitley
Gr. 5-8. Tara Smith longs to be extraordinary–but, when she said that, she dreamed of becoming an astronaut, not spontaneously combusting in math class. She wanted to travel to space–not find out she is really an alien. She wanted her parents to be a little less routine-oriented–not really be kidnappers that tore her away from her home and hid Tara's true identity from her for years.
But, things don't always work out the way you expect. Such as when you discover all of these extraordinary things about yourself, while also finding out that you still have to go to high school (but now a high school for alien teenage girls). New friendships, drama, and confusion seem to follow Tara wherever she goes as she tries to figure out where she fits in among the big, wide universe.
A new series by the author of Princeless! This wasn't quite as amazing as Princeless, but I am definitely looking forward to the sequel. Tara's emotional ups and downs felt very real, and I'm excited to see more of the world created in this series, including the multitude of alien species (more cat people please!). I'm also ready for the strength of a united Tara, Summer, and Misako–their new school isn't going to know what hit them.
There's Something About Sweetie by Sandhya Menon
Gr. 7+. Ashish was recently dumped by his (now ex-) girlfriend. Ever since the breakup, nothing is working–he can't seem to flirt anymore, he never feels happy, and basketball just feels routine. Even though he can't ever imagine it working, he agrees to let his parent's set him up with a new girl, hoping that a little bit of a flirting and a few dates (without the pressure of making those things happen himself) might help him find his groove again.
Sweetie doesn't think too much about romance–she is too busy beating everyone on the track, hanging out with her friends, and singing in the shower. When Sweetie finds out that Ashish's parents want to set the two of them up, she is mildly interested–until Sweetie's mom denies the match because Sweetie's traditional Indian mom thinks Sweetie is too fat for an attractive, rich boy like Ashish.
Sweetie is furious. She doesn't care so much about dating Ashish, as she hates how her parent's insecurities about Sweetie's weight make them control her actions. She tracks down Ashish and proposes a deal–that they date, in secret, behind their parent's backs. He gets his mojo back, and Sweetie proves that fat girls are datable. Ashish agrees. Obviously, love follows.
I love all of Sandhya Menon's sweet romance novels, and I'm glad I saved this one for last (of what she has currently published). It was fun to see familiar characters again, but Ashish and Sweetie just have a great dynamic. Contrary to their names, Ashish was the one who was a little too sweet for me at times, especially toward the end of the book, but Sweetie's self-confidence and determination make this book shine. At so many moments, Sweetie could have crumbled–but she never does, no matter who is trying to hold her back, because of her faith in herself. So much fun to read.