It's book list season! I've read a lot this year, and I am excited to highlight my favorite releases of 2020. I'm thrilled to share my 2020 Favorite Beginning Readers.
For me and my library, beginning readers are those books designed to teach kids how to read. These books typically have short sentences focused on vocabulary building and repetition, with illustrations that reflect the story being told. Typically, these books fall between guided reading levels A-L, and they include popular series such as Elephant & Piggie and Fly Guy as well as the various leveled reader texts from different publishers.
These lists are personal. The beginning readers that stand out for me may not be your favorites–and that is okay! We each have our own reading preferences. Also, I very well may have missed some great titles that were released over the last year–so make sure to check out all of the great lists all over the internet, and please share your favorites in the comments!
2020 Favorite Beginning Readers
Astrid and Apollo
by V.T. Bidania and illustrated by Dara Lashia Lee
Meet Astrid and Apollo, members of a Hmong family living in Minnesota. They love to have fun, and have various everyday adventures across the first four books in their series. Check these out for delicious food recommendations, an encouraging and nurturing family, and some maybe-new-to-you Hmong vocabulary.
Baloney and Friends by Greg Pizzoli
Baloney and friends get into all kinds of shenanigans in three hilarious short stories. Perfect for fans of Elephant & Piggie.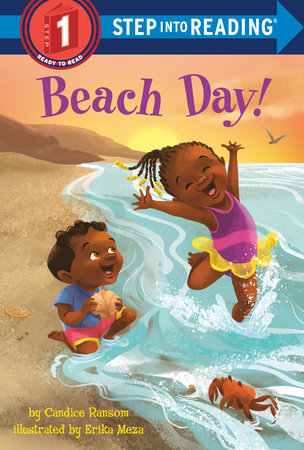 Beach Day!
by Candice Ransom and illustrated by Erika Meza
A family spends the day at the beach playing in the water, building sandcastles, and riding rides at the nearby park. Great for kids just learning to read.
Cheer Up
by Heather Ayris Burnell and illustrated by Hazel Quintanilla
Unicorn and Yeti's adventures continue as the two friends work to cheer each other up in three short stories. I love the bright, colorful illustrations and appealing characters in this series, along with the focus on kindness and friendship.
Emma Every Day
by C.L. Reid and illustrated by Elena Aiello
Emma is one of my new favorite beginning reader characters. Emma is Deaf and uses a cochlear implant and sign language while going on everyday adventures. Written by a deafblind author. Make sure to explore the whole series.
I Want to Sleep Under the Stars by Mo Willems
Zoom Squirrel dreams of sleeping under the stars. Like the good friends they are, the rest of the squirrels are determined to help! But is their enthusiasm a little too much? This book won me over to the Unlimited Squirrels fun, even if these don't share the same magic as Elephant and Piggie.
See the Cat: Three Stories About a Dog
by David LaRochelle and illustrated by Mike Wohnoutka
While this probably isn't the best choice for very new readers (who may get confused by the disassociation between the pictures and text), this meta reader will be well loved by more experienced readers who can enjoy the humor. Dog's illustrations don't match up with the words the narrator is saying…leading to a very indignant dog.
Ty's Travels: Zip, Zoom!
by Kelly Starling Lyons and illustrated by Nina Mata
Ty's Travels is tied with Emma Every Day for my absolute favorite brand new beginning reader series of the year! A much needed set of own voices readers, these books follow Ty's adventures with various types of transportation. Learn about Ty's excitement to get his own scooter…followed by his disappointment when riding it is a bit harder than he imagined.
What About Worms!? by Ryan T. Higgins
I am this tiger. Please, watch out for worms. They are everywhere. They are slimy. They ruin everything. Avoid when possible. So much delightful humor sure to be winners with fans of Elephant & Piggie.
Who Needs a Checkup? by Norm Feuti
The newest title in the Hello, Hedgehog! series follows Harry's first visit to the doctor. I love the colorful, familiar characters in the new Acorn books, and the Hedgehog series does not disappoint with its exploration of familiar experiences that may seem a little scary to young readers.
Yasmin The Soccer Star by Saadia Faruqi
Even though this series has been released for a few years, no beginning readers list is complete without a Yasmin title. In this story, Yasmin's class is excited to play soccer–well everyone is excited except Yasmin. Soccer looks a little dangerous, and Yasmin isn't sure how she feels about trying a new sport.