Lots of great books this week! Read the book reviews below, and learn more about my favorite reads:
Claudia and the New Girl by Gabriela Epstein (graphic novel)
Gr. 3-5. Claudia loves art just as much as she loves babysitting. Her fellow babysitters might not quite understand Claudia's passion for art, but Claudia is fine with that until she meets new classmate Ashley. Ashley participated in an exclusive art program in Chicago, and she thinks Claudia has potential. Claudia is thrilled to have someone to talk to about art, but Ashley doesn't understand why Claudia spends so much of her time babysitting instead of dedicating her time exclusively to her art projects. Suddenly Claudia is sitting with Ashley at lunch and missing BSC meetings–is Claudia's time on the BSC over?
Another great addition to the oh-so-popular Baby-Sitters Club graphic novels. We are well past the chapter books I remember reading, so I can't say how closely this aligns to the original book, but I appreciate Claudia's recognition of her very busy (and sometimes too busy) schedule. This is the first book with new illustrator Gaby Epstein's art, and she does a fantastic job blending with previous illustrators while also making these her own. Looking forward to more to come!
Family Reunion by Christine Platt (first chapter)
Gr. 2-3. Ana and Andrew's family adventures continue when they travel from Washington, D.C. to Georgia for the 75th annual Lewis family reunion! The siblings are so excited to see their cousins and relatives and participate in the family fun.
Another great edition to this fantastic beginning reader/first chapter book series. Looking forward to picking up the rest of the new releases.
Fighting Words by Kimberly Brubaker Bradley
Gr. 5-8. Wow. This was so much more than I expected. Even when the book gives you quite a few hints as to where the story is going, the end result still packs quite the punch. Bahni Turpin on audio is phenomenal as always, and I will always associate her voice with Della's now.
A must read, with a small caveat that I do wonder a bit about the author's decision to make Della Black. The rest of the content of this story seems to be own voices based on the author's note, but I can only imagine that there are layers to this experience added based on skin color that the author doesn't have the same experience with.
I Dream of Popo by Livia Blackburne (picture book)
Gr. K-2. A young girl loves playing with her popo (grandmother). When her family moves across the world from Taiwan to San Diego, she misses her popo terribly. When she returns to visit, she realizes she doesn't remember Taiwanese the way she used to–making it a little harder to communicate. The story follows their shared love over time and distance, emphasizing the bond of family and the particular struggle of leaving family behind.
Runaway: The Daring Escape of Ona Judge by Ray Anthony Shepard (biography)
Gr. 1-4. Uses the framework of a poem with gorgeous illustrations to tell the story of Ona Judge, a slave in President George Washington's household. I like how this shows that Ona's life was "better" than the experience of the average slave; but better does not equal good or free. Excellent all around.
The Story of John Lewis by Tonya Leslie
Gr. 2-4. A short chapter-book biography of John Lewis, perfect for elementary school students and fans of the Who Is/Was books. Filled with colorful illustrations and pop-out boxes featuring questions, mini-timelines, and explanations of myth vs. fact. Detailed back matter includes a quiz, a summary of ways John Lewis made a difference, more questions, a glossary, and a bibliography.
I am very impressed by the quality of this biography series, and I especially appreciate the own voices authors. While the reading level is slightly under the Who Is/Was books, this is a much stronger work overall with a format that is more appealing for reluctant readers. Will be looking for the rest of the series.
Planet Omar: Unexpected Super Spy by Zanib Mian
Gr. 3-4. Omar is so excited to use his saved money to buy a super awesome Nerf Blaster! But days before his big purchase, Omar finds out that his mosque is in trouble. The roof is collapsing, and if the mosque doesn't raise enough money, it will have to close. Omar and his friends work hard to raise money with chores and selling some cool creations, but they think they might have found the best money-making option in a school-wide talent show. They raise so much money, and everything looks like it will turn out okay…until the money goes missing. Can they find it before it is too late?
This was a lot of fun! I remember not being a big fan of the first Omar book, but I am so glad to have picked up book two. Lots of everyday kid shenanigans, with a scattering of British terms throughout (Omar's family lives in London). This series will appeal to fans of Wimpy Kid and Big Nate looking for books with some illustrations but a bit more text than those series.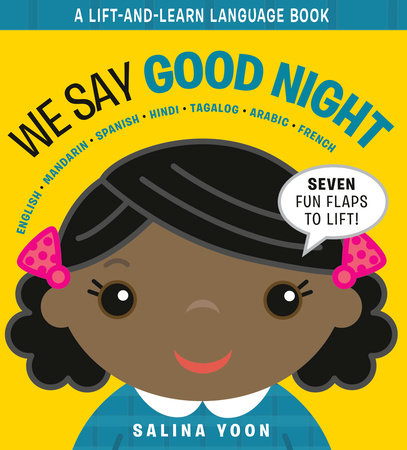 We Say Good Night by Salina Yoon (board book)
Toddler-PreS. Learn to say good night in English, Madarin, Spanish, Hindi, Tagalog, Arabic, and French in this simple, brightly-colored board book. Lift the flap on each page to see the word "good night" in a different language. An excellent choice for storytime with bright, solid background colors that will make this easy to see even in a crowded room.
Where Are You Polar Bear? by DK Publishing (board book)
Toddler-PreS. Where is polar bear hiding? Meet many arctic animals in this simple, plastic-free touch and feel book. Sturdy cardboard pages with simple cardboard cutouts create the textured experience without plastic. Muted colors lean into the cardboard design and overall tone of the book.
Witchy by Ariel Slamet Ries (graphic novel)
Gr. 4-7. Young witch Nyneve hides her hair when at school. The length of your hair determines the strength of your magic, and Nyneve's hair is long–just like her father, who was killed for being considered a magical threat. When the Witch Guard tries to force her to join, Nyneve does the unthinkable: she cuts off her hair, severing her power. Soon she is running for her life and discovering new enemies–but maybe also a few new friends–along the way.
Ohhhh I liked this! I haven't heard much about this book at all, but this is an excellent readalike for Witch Boy, Amulet, Lightfall, and even Moonstruck and some slightly older middle school graphic novels. Great story, excellent characters, a good trans subplot–there is so much to appreciate. Where is book two?